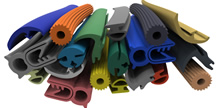 The importance and significance of rubber cannot be emphasized enough. From its resourcefulness to its extensive range of applications, rubber products are manufactured, distributed, and used in different forms worldwide. Rubber is an elastic substance made from petroleum, natural gas, or the exudations of some tropical plants. Rubber is the main component of tires in automobiles, airplanes, and bicycles due to its flexibility, durability, and hardness.
Many techniques are used to process raw rubber into a useful product, such as rubber molding or rubber extrusion. This article will specifically focus on these particular areas.
Introduction to Molded & Extruded Rubber
Rubber molding is the process of transferring, compressing, or injecting raw rubber material into a metal mold cavity to turn uncured rubber or an elastomer into a useful product. The material's polymer chains crosslink due to the pressure applied, which triggers a chemical process such as curing or vulcanization.
Extruded rubber is formed by softening and pressurizing an elastomeric compound and pushing it to flow through a hard tool called a die. The end product is a continuous piece of material with a consistent cross-section along its full length. The die profile determines how the cross-section is shaped.
Applications of Molded or Extruded Rubber
Natural or synthetic rubber can be formed and molded into intricate designs, which increases its usefulness. Rubber has the same qualities as synthetic materials such as neoprene, silicone, ethylene propylene diene monomer (EPDM), and different kinds of elastomers, but they are more flexible and durable.
Molded Rubber Parts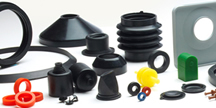 Here are some of the important applications of molded rubber:
Rubber Bumpers: Rubber bumpers are available in various forms to produce goods that prevent rigid parts from being harmed by vibrations and impacts.
Rubber Diaphragms: Rubber diaphragms are sealant components employed to stop friction or leaks. They are made to endure the impacts of pressure and keep all liquids from escaping. They are available in two varieties, static and dynamic. The latter can be actuated by the smallest amount of pressure.
Rubber Isolators: Rubber vibration isolators are designed to keep machinery and equipment level and steady while guarding against vibration-related damage.
Extruded Rubber Parts
Rubber Hoses, Pipes & Tubes: Regardless of the material type, the rubber extrusion method is frequently used to create tubes, hoses, and pipes. Its usage in food and drug production is extensive thanks to the materials approved for use in food, including silicone.
Rubber Bushings: Extruded rubber bushings serve as shock absorbers in a piece of operating machinery. They isolate moving parts from one another and stop noise and vibration from spreading throughout the apparatus.
Rubber Bumpers: Rubber bumpers are frequently employed in road safety equipment, jetties, docks, and loading bays for trailer trucks due to their shock absorbing ability.
Britech's Molded Rubber Parts
Rubber Grommets

Rubber Grommets are manufactured by Britech, keeping in mind the highest standards of quality and specifications to protect sharp edges of panel holes and for gripping wires in order to protect them from abrasions and cuts. Rubber grommets are used for manufacturing electrical appliances, sports equipment, furniture, and lighting.
Rubber Bumpers
Rubber bumpers are available in various forms to produce goods that prevent rigid parts from being harmed by vibrations and impacts. Britech's rubber bumpers are carefully designed by their engineers, ensuring reliability and toughness in order to protect delicate equipment from any kind of damage or harm. Transportation, electronics, and automobiles are the industries where rubber bumpers find the majority of their applications.
Rubber Washers

One of Britech's finest offerings is their line of rubber washers, which are flat rings with holes in the center for fasteners or passageways for fluids. Rubber washers shield surfaces, stop leaks, and reduce vibration. Industries that commonly make use of rubber washers are construction, electrical and plumbing installation, aerospace, and automotive manufacturers.
Rubber Stoppers

Manufactured from natural rubber with a 40 durometer to meet the strictest laboratory specifications, Britech's rubber stoppers are ideal for sealing off joints or holes in laboratory glassware and providing a liquid-tight seal. Rubber stoppers find their applications in the pharmaceutical, medical and chemical industries.
Rubber Tips

Rubber tips improve grip on rough surfaces, eliminate scratches on solid surfaces, and considerably reduce wear on your poles. Therefore, britech rubber tips perfectly serve the purpose and ensure full customer satisfaction. Rubber tips are commonly used in heavy duty industries, along with printing and packaging industries.
Rubber Caps

Britech's rubber plugs are essential for sealing parts, particularly those that have chemicals or are exposed to high temperatures. Moreover, these rubber caps can also be used for the protection of furniture. The industries where rubber caps are mostly used include pharmaceutical, medical, and furniture.
Rubber Suction Cups

Suction cups by Britech create a solid seal when put on a smooth surface. Our rubber manufacturing equipment creates suction cups that are smooth, faultless, and will firmly hold the targeted surface. Suction cups are commonly used in medical, construction and food beverages industries etc.
Britech's Extruded Rubber Parts
Rubber U Channels

U Channel Extrusions have many uses. They're the perfect protective edge for the metals and rough parts/ They also can be used as cosmetic trims and budget-friendly seals. Applications of U channel can be found in plumbing, construction, marine, and automotive industries.
Rubber Seals & Gaskets

Britech's seals can be used in numerous industries to prevent the unwanted leakage of liquids and gasses where their gaskets can be utilized to seal a connection between two components or flanges that have flat surfaces. In automotive, chemical, and oil & gas industries, seals and gaskets are majorly used.
Rubber Ribbed & Cord Stock
Manufactured with the finest quality rubber, Britech's ribbed & cord stock can be perfectly employed for the manufacturing of custom rubber seals, thereby ensuring complete customer satisfaction. Industries where ribbed and cord stock are used, include furniture and automobiles.
Rubber Pedestal Sections

At Britech industries, rubber pedestal sections are designed with professionalism to meet customer demands and specifications. No tolerance policy is observed in the maintenance of the quality rubber pedestal sections. These products are commonly utilized in the automotive and construction industries.
Rubber D Sections

If your concern is to protect your valuable and fragile equipment, then Britech's D sections are certainly the right product to choose from. With supreme quality and functioning, these products can be used efficiently to absorb impact. Automotive, furniture, and construction industries employ D sections the most.
Silicone Rubber

Britech industries facilitate their customers with a wide range of silicone rubber. All of their silicone rubber varieties can be employed to manufacture electrical insulating tapes, adhesives, sealants, etc. Many of the industries where silicone rubber is used include sportswear, footwear, electronics and automotive, etc.
Rubber P Sections

P-sections created by Britech Industries can be frequently used as pipework between truck and vehicle panels, hatch seals, door seals, and window seals. Mining, automotive, and construction industries use P sections.
Rubber Triangle Sections
One of Britech's finest products to be used for the purpose of sealing doors, windows, and small openings in their Triangle Sections. Mostly, chemical and construction industries used triangle sections in abundance.
Rubber Coves & Wipers

Rubber coves and wipers designed by Britech are best suited to be used as they can offer more resistance to scuff and do not shrink. Prominently, their applications are found in automobiles and construction industries.
Rubber Bar Stock

Performing up to its best in providing a resilient product, Britech's rubber bar stock ensures sturdy and reliable functionality to its customers. Applications include fitness equipment and electrical industries.
Rubber Rectangles & Squares

Rectangles and squares of rubber made by Britech are used in a number of global industries to create a range of goods having an appreciable quality. Automotive, aerospace, and medical industries fall under the category of its applications.
Stock & Custom Rubber U Channel Extrusions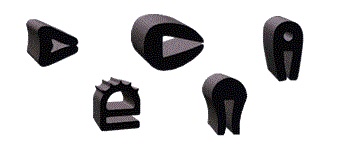 Britech Industries has been manufacturing U Channels for over 20 years and is one of the largest suppliers in the US today. Their wide range of capabilities allows them to make custom extrusions of many different compounds, sizes and shapes in addition to being able to stock a full selection of U Channels. Britech industries employ rubber in its production after its careful standard inspection, so the product that is formed ticks all the boxes in the list of customers' expectations.
Silicone Extrusions
To create cables, intricate profiles, and cross-sections, silicone is driven through a shaped die, which is a stainless steel disc with a pattern cut out of it. In general, silicone extrusions outperform other materials in terms of durability, color variation, and resistance to a larger range of environmental factors. Simple extrusions can be made, or we can create unique sizes with intricate cross-sections. To create a product with a variety of performance characteristics, they can be multi-layered. Silicone extrusions are prone to shrinking while being produced. Britech silicone extrusions are a fine choice to be used in the production of sealants, adhesives, and electrical insulating tapes.
Custom Rubber Extrusions
Rubber extrusions are one of the premium services that Britech offers to its customers keeping in view all the standards of quality and safety. In order to go out of the box in the provision of reliable service to their customers, Britech Industries deliver custom rubber extrusions to their customers. Customers can set their own specifications and proceed to receive their desired rubber extruded product.
Rubber Molding Process
Here's a brief explanation of the rubber molding process:
Designing the Mold: First, the mold is designed per the specifications to accommodate the flow of molten rubber.
Injecting the Rubber: When the mold is closed, the rubber, in liquid form, is injected into the molding machine so that it can flow through the channels of the mold through the sprue and runner.
Compression and Cooling: The compression takes place in this step, and the liquid rubber completely occupies all the areas of the mold cavity. Afterward, the mold is cooled down to solidify the rubber.
Ejecting the Product: The final product is ejected, and the machine further improves its finish.
Rubber Extrusion Process
Following is the step-by-step process of rubber extrusion:
Heating: While being heated, the stock is pushed into the conveyor channel by the screw, which processes the raw rubber material.
Screwing: The stock is delivered to the conveyor, where it is heated, sheared, and pressurized during the spinning of the screw.
Pressurizing: The pressurized material is forced into the die at the extruder's end, where it takes on shape and is removed.
Considerations of Rubber Molding and Extrusion
Following are some of the important considerations to look for in the rubber molding and extrusion process:
Rubber Molding:
Surface finish
Part tolerances
Low-temperature capability
Coefficient of friction
Chemical compatibility and volume swell
Rubber Extrusion:
Radii for corner extrusions
Rubber tolerances
Movement of the part
Prototype formation
Advantages of Rubber Molding and Rubber Extrusion
Following are some advantages of the Rubber Molding Process:
Efficiency
Full automation of raw material insertion and final product ejection
High-quality rubber production
Repeatable process
Complex and intricate geometries
Following are some of the advantages of the Rubber Extrusion Process:
Efficient and economical process
Minimal wasted volume of material
Flexible range of products
Tough extruded products
Britech Capabilities and Services
Britech Capabilities ensures its customers the manufacture and provision of high-quality plastic and rubber products through their high-tech equipment. The manufactured products are keenly administered to match the customers' specifications and ensure their satisfaction. Not only rubber molding and rubber extrusion, but Britech Industries provides not only rubber molding and extrusion but also injection molded and plastic extruded products.